Janet Rogers AWS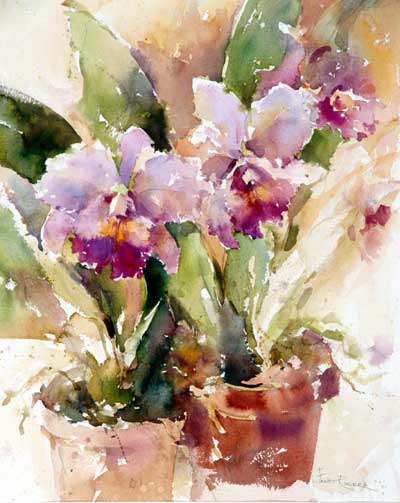 JANET ROGERS, AWS
Janet Rogers has been a working professional artist for overt 35 years, and has achieved Signature Status in The American Watercolor Society, The Florida Watercolor Society, South Carolina Watercolor Society and others. She has garnered many awards over the years for her sensitive paintings of people which are spontaneous, direct, and expressive. Janet shares easily with others her passion and joy for the fluid and unexpected nature of watercolor.
Her workshops and demonstrations featuring impressions of people and also flowers are very popular across the United States, Canada, and in Europe. Her new ONLINE WORKSHOPS ARE A POPULAR ALTERNATIVE IN THIS AGE OF COVID 19. ….. Four instructional and inspiring DVDs - "Expressive Watercolor Florals", "Expressive Watercolor Portraits", "Watercolor Rhythms with Figures", and "Expressing the Bouquet in Watercolor" are also available.
Janet also has been featured in watercolor painting videos on You Tube., as well as a delightful new Interview on YouTube.
You can view her work at www.watercolorsbyrogers.com - and you may also join one of her online classes and workshops.
ARTIST STATEMENT:
"I love the qualities of watercolor – its fluid nature. To me, the interaction of artist with the medium is like a dance – full of motion, feeling and expression. I love to watch the painting develop and to discover new color and composition.
As a teacher, I would like to enable students to find their connections with watercolor in new and expressive ways."
Janet Rogers, AWS