please scroll down for information on our 2020 trip to TUSCANY
2019 FRANCE WORKSHOP
Watercolor Adventures in France with Steve and Janet
May 25-31 leave June 1 and or June 2-8 leave june 9
LE QUERCY – THE LOT VALLEY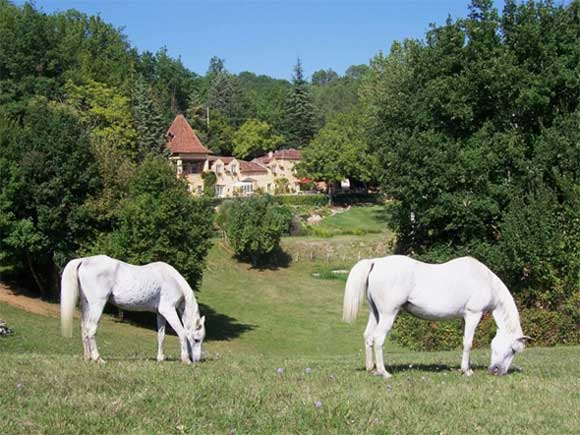 Join Janet and Steve Rogers at beautiful Domaine du Haut Baran, located in the beautiful unspoiled region of the Lot River Valley, just south of the Dordogne Region in Southwest France, for a watercolor painting adventure.
Domaine du Haut Baran, near beautiful Puy l'Eveque, is a popular artist's retreat in a restored 18th Century Country Manor Home with modern accommodations. Our hosts, Rosalie and William Haas( pictured above), will provide a wonderful connection for us to enjoy this special paradise! Janet & Steve will provide instruction throughout the trip. William will be our guide and transport us to and from Toulouse Airport, and to painting locations as well as touring beautiful villages, including St Cirq Lapopie (voted the most beautiful village in France). Rosalie will delight us with delicious French cuisine! They even have 12 Julian Easels for us.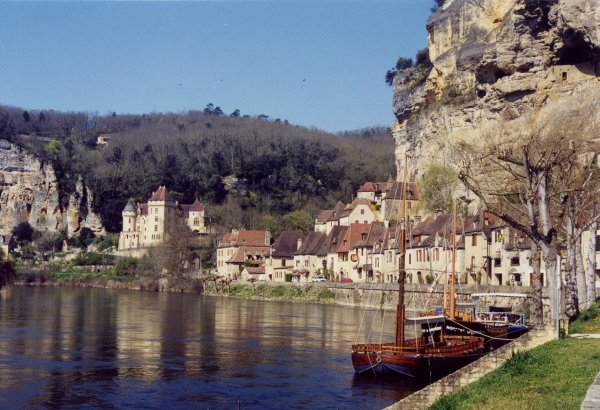 Our maximum number, including non-painters, is 12, so with two instructors everyone who wants it will receive plenty of attention. The 7 day workshop is $2950.00 per person double occupancy, which does not include airfare but does include all breakfasts, 3 dinners and 2 lunches, transportation to and from airport and tour and village sites, lodging at the beautiful Domaine du Haut Baran and other things spelled out in the prospectus. BEAUTY AND LAUGHTER ARE FREE AND PLENTYFUL!!!!! A small workhop like these in such wonderful places are bound to fill up quickly so be sure to sign up early.
2020 ITALY WORKSHOP
PAINTING ADVENTURE WITH JANET AND STEVE IN
CHIANTI REGION OF TUSCANY AND CORTONA, ITALY
10 /7 DAY TRIP TO ITALY IN 2020 CHIANTI REGION OF TUSCANY WITH OPTIONAL CORTONA TRIP
MAY 23-JUNE 2, 2020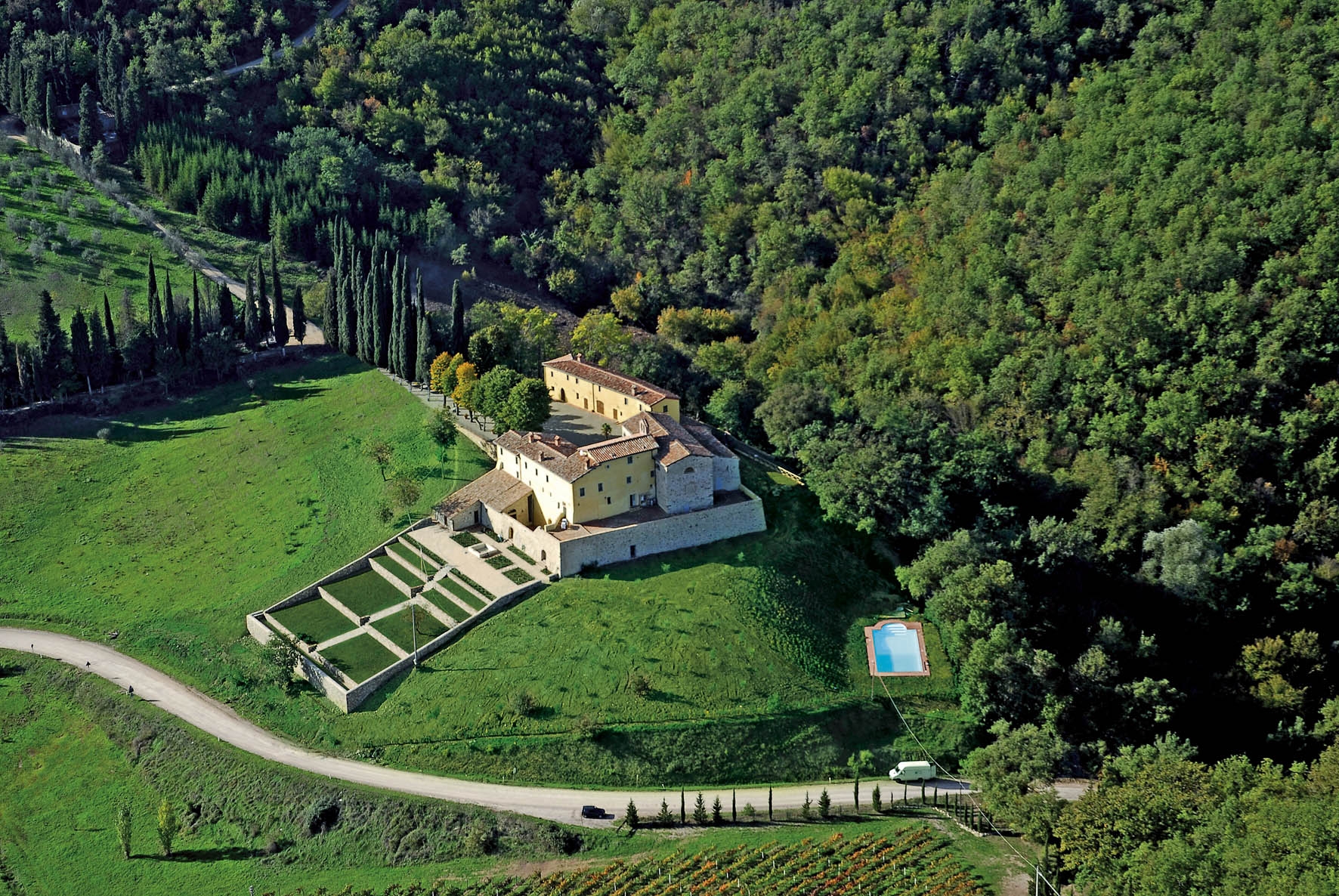 Saturday, May 23rd
, begins our week at San Fedele outside of Siena. A coach will meet us at the Florence train station for the transfer to our lovely destination of San Fedele – a beautifully restored ex-monastery dating back to 1203 AD – and located in the stunning Chianti region of Tuscany. Here we can just relax and just breathe in the beauty of this extraordinary countryside. At the TRC we will have wonderful accommodations and enjoy authentic Tuscan cooking by our own private chef!

Our painting adventure will include lessons and painting time in the studio at the Renaissance Center, and excursions to historic and charming hill towns, located nearby.
Steve and Janet Rogers will be available at all times to help facilitate your painting experience in any way we can. Our lessons will include approaching painting en plein air, capturing the feeling of what we see, simplifying what we see, and connecting with the beautiful colors before us. Some of the subject matter we will cover will include landscape, flowers, people, etc. Class instruction as well as plenty of individual help will be available. All levels of experience are welcome. There are two of us!
We will meet together to have "show and tell" so that we can share in our new discoveries as we paint together! We all learn from each other, and that is what makes this trip so special – sharing our unique visions of this glorious and historic country!
Additional Activities: Our daily painting will be combined with other adventures such as:
Day trip to Medieval Siena to sketch, take photos, explore and shop
Excursions to nearby hilltowns like Radda, Castellina, Monteriggioni, etc.
Visit to Chianti winery for a tour and tasting
Variety of plein air locations to paint landscapes, villages, and the Tuscan light
Discussions of Tuscan cuisine with our chef.
After excursions or painting on location, we'll return each evening to relax in our 1,000 year old monastery to enjoy the surroundings, have a glass of wine and an informal critique of the day's work. Then we will move to the dining room (the authentic refectory where the monks used to assemble) to enjoy our local chef's authentic, home-made Tuscan meal, recapping the day's adventure with good company.
Optional Add-on:
3 Days in Cortona, Steve and Janet's favorite town in Tuscany. Cortona is the place Frances Mayes, the Under the Tuscan Sun author, captures so well in her books. It too is a medieval town with much to explore from the Etruscan museum to the monastery started by St. Francis of Assisi. This is a great walking city with several piazzas to sit in for painting or just to have a cappuccino and watch the world go by.
We'll stay at the Hotel San Luca, right at the entrance to the main street of Cortona. We'll have 2 dinners together, a tour of the town emphasizing its history and an opportunity to visit "Le Celle" the still operating monastery founded by St. Francis in the 13th century.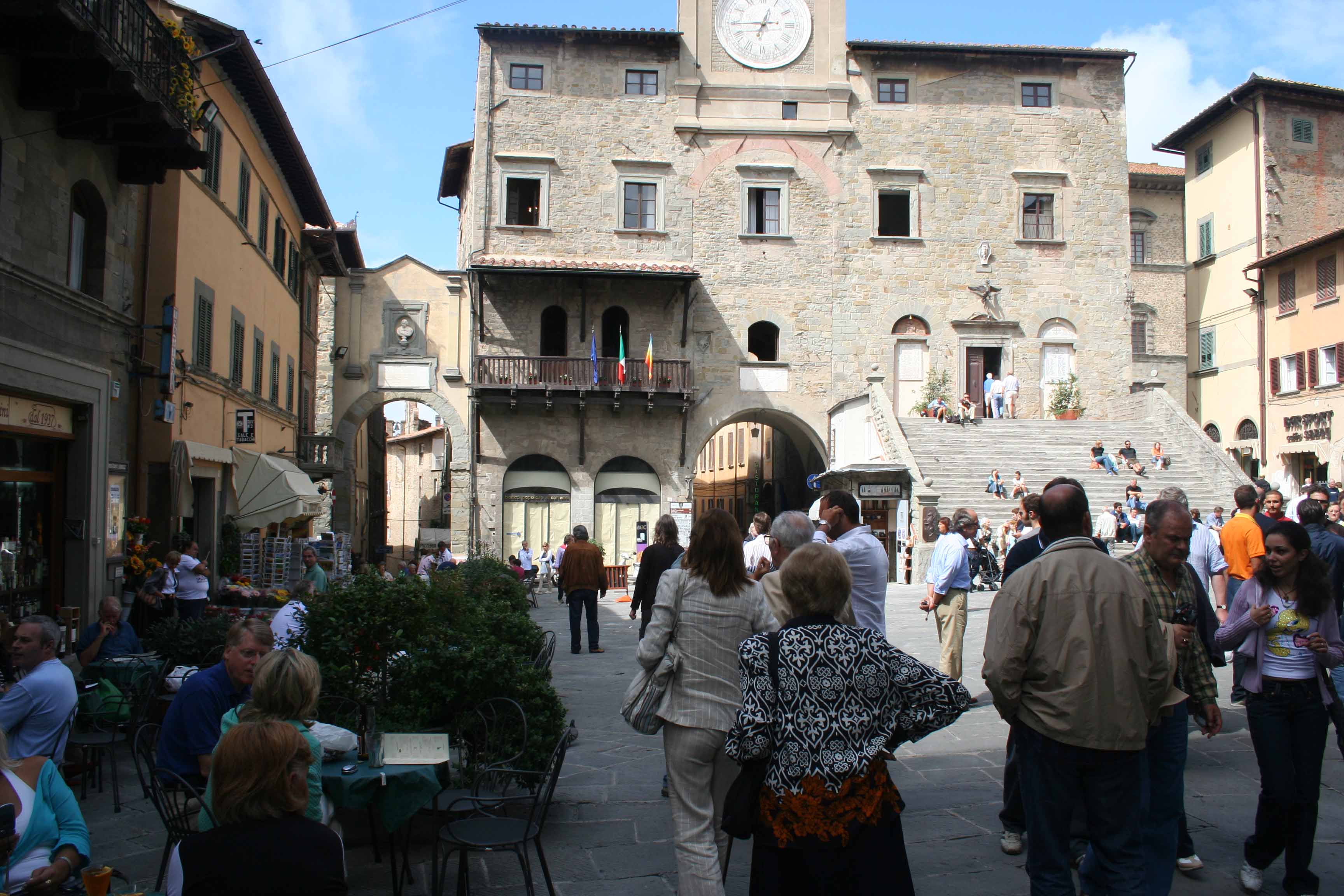 Price:
Tuscany Only: $2,895 p/p based on double occupancy; (non-painters $2,595)
Optional supplements:
$550 for single room-limited availability
$250 p/p for Jr. Suite
Optional Cortona 3-day extension: Add $750 (total: $3,645 p/p)
Single supplement: add $175 ($725 for both programs)
Includes:
Shared double room with ensuite bathroom in restored monastery (single rooms available for a supplement, see above)
Daily traditional breakfast and dinner, including wine
Daily painting classes and critiques
Excursion to Siena
½ day painting excursions to nearby plein air settings and hilltowns (Monteriggioni, Radda, Volpaia…)
Pick up from Florence train station at 2:30pm on first Saturday

Transfer to Cortona (or bus/train station in

Siena

) on next Saturday

Cortona extension includes:

3 nights at Hotel San Luca, 2 dinners with the group, walking tour of the town and optional transfer back to Florence on final day (departing as a group at one assigned time).
Does Not Include:
Airfare
Lunch (we'll make sure we have access to lunch options when we are on excursions)
Art supplies
Independent meals and sight-seeing
Gratuities
To Register: just click on the Sign Up Now button. A non-refundable deposit of $500 is required to secure your spot in the workshop. Payment can be made on line with a credit card, or you can follow the instructions to send in your registration and payment by mail. Once we receive your deposit we will send you a formal Registration Confirmation with further information about the program. You will receive 2-3 other correspondences by email prior to the workshop with information about Italy, a supplies list and an electronic
invoice for the balance. Final Balance is due by April 15th. Any time prior to your arrival, if you have questions about anything regarding the trip or the program, you can contact us by email or phone and we'll be happy to assist you.
Contact us for more information: info@ilchiostro.com or speak to us live at 800-990-3506.